About The Tarot Guild of Australia
The Tarot Guild of Australia (TGA) represents a community of Tarot enthusiasts, readers and teachers from across Australia and worldwide and provides a great avenue for like-minded people to connect and discuss all things tarot – something we all love to do! The TGA is a membership-based organisation, offering those with an interest in Tarot the opportunity to become Interest or Professional Members.
The primary aim of the TGA is to raise public interest and awareness of the Tarot, to promote the study of the Tarot, to maintain ethical standards in the practice of reading Tarot via professional certification and to provide a network for further education and sharing information amongst members. The TGA offers Tarot events and workshops in major Australian cities and provides an opportunity to connect and network with like-minded individuals while learning about the Tarot.
It doesn't matter if you are new to tarot or a seasoned professional – we have something on offer for everyone!
You can join either as an interest member or as a tarot professional.
Please take the time to read through our site and make sure you check back regularly, as we have many exciting events on the horizon.
Latest News
It is wonderful to see that monthly meeting presentations are back face-to-face in Sydney, Brisbane and Perth.   Here in Melbourne we are still zooming our monthly presentations.  We are assessing this on a month to month basis...
Events and Workshops
The Tarot Guild of Australia holds regular events and workshops.
What's on in Melbourne
10 April @ 1:30 pm

-

3:30 pm
In this interactive Zoom workshop we will look at the Tarot as a Coaching Tool, and the Tarot Reading as an opportunity to use coaching techniques to empower your clients.
What's on in Sydney
8 April @ 6:30 pm

-

8:30 pm
Open your inner tuition as guided by the symbology, colour and art in your personal major arcana we delve into the imagery and what it represents to you.
What's on in Perth
10 April @ 11:00 am

-

1:30 pm
Kat will offer a talk regarding how her tarot decks Kunati Touchstone and Golden Tarot came into being.
What's on in Brisbane
7 May @ 7:00 pm

-

9:00 pm
Judith will discuss the general framework of the Tarot and how two cards, or pairs can be read. 
TGA Professional Accredited Tarot Readers & Teachers
Looking for a professional Tarot Reader and/or Teacher located in Australia or Internationally?
Click the links below to find a professional Tarot Reader and/or Teacher in your area:
Interested in becoming a member of
the Tarot Guild of Australia Inc.?
Are you new to Tarot and eager to learn?
Do you like being part of a friendly group of like-minded Tarot enthusiasts?
Do you have a vision of transitioning to become an accredited TGA Professional member?
To find out more click here …
If you are not a Tarot Guild Member already you can subscribe for FREE monthly email notices about TGA Workshops & Events
Blog
A.E. Waite wrote that the Ace of Cups is the Holy Grail of Arthurian legends. So the suit of Cups is that quest for the happiness and stability we look for in our personal lives.
We are told that the pen is mightier than the sword – and that can be said of the tongue and the mind too. Our thoughts, words and deeds are powerful.
From the earliest records Leo, the heavenly lion, has been associated with royalty, the Sun and strength.
COMING SOON!
Tarot
Ca

rd for the Day
The Magician or The Magus is the first trump or Major Arcana card in most traditional Tarot decks.
Astrological Moon Phase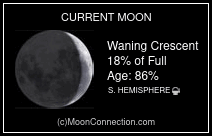 The lunar phase or phase of the Moon is the shape of the directly sunlit portion of the Moon as viewed from Earth. The lunar phases gradually and cyclically change over the period of a synodic month (about 29.53 days), as the orbital positions of the Moon around Earth and of Earth around the Sun shift.
Tarot Guild Shop
Click here to purchase workshops, lectures, and Issues of The Magician from the online Tarot Guild shop.