About The Tarot Guild of Australia
The Tarot Guild of Australia (TGA) represents a community of Tarot enthusiasts, readers and teachers from across Australia and worldwide and provides a great avenue for like-minded people to connect and discuss all things tarot – something we all love to do! The TGA is a membership-based organisation, offering those with an interest in Tarot the opportunity to become Interest or Professional Members.
The primary aim of the TGA is to raise public interest and awareness of the Tarot, to promote the study of the Tarot, to maintain ethical standards in the practice of reading Tarot via professional certification and to provide a network for further education and sharing information amongst members. The TGA offers Tarot events and workshops in major Australian cities and provides an opportunity to connect and network with like-minded individuals while learning about the Tarot.
It doesn't matter if you are new to tarot or a seasoned professional – we have something on offer for everyone!
You can join either as an interest member or as a tarot professional.
Please take the time to read through our site and make sure you check back regularly, as we have many exciting events on the horizon.
TGA Professional Accredited Tarot Readers & Teachers
Looking for a professional Tarot Reader and/or Teacher located in Australia or Internationally?
Click the links below to find a professional Tarot Reader and/or Teacher in your area:
Events and Workshops
The Tarot Guild of Australia holds regular events and workshops.
The Tarot Guild of Australia is excited to announce the inaugural meeting of a new Group in Brisbane.
This has come about through the passion and hard work of Delma Brunello, who is a long-standing Professional Member of the Tarot Guild.  For many years Delma has had a desire to co-ordinate a Brisbane Tarot Guild of Australia Group, and now she has made it happen.
We especially welcome TGA members and also anyone who has an interest in Tarot.  Come along and bring your friends.
As a special celebration of this first inaugural meeting of the Brisbane Tarot Guild Group – Entry will be FREE to all who attend!
What's on in Melbourne
1 June @ 2:00 pm

-

4:00 pm
This month, TGA's Committee members Marlana, Anne and Naomi will share with you their favourite Tarot Spread and demonstrate the art of reading it.
What's on in Sydney
13 June @ 6:30 pm

-

8:30 pm
Paris is a Tarot Reader, Astrologer, Palm Reader, a Psychic Gypsy Card Reader and Teacher. He also designs and publishes his own decks, known as the 'Lenono' decks!
What's on in Perth
5 June @ 6:30 pm

-

8:30 pm
Tara from Daya Enlightened speaks about Accessing Your Intuition through the Tarot, using the 5 elements hidden within the tarot. We are of the elements. Air, Water, Earth, Fire and Ether. We are masc...
What's on in Brisbane
7 June @ 7:00 pm

-

10:00 pm
Human beings are storytellers. We relate to stories, symbols and pictures at a deep level. The Mythic Tarot tells the story of the Greek Gods These stories or 'myths' are at the heart of and under...
Interested in becoming a member of
the Tarot Guild of Australia Inc.?
Are you new to Tarot and eager to learn?
Do you like being part of a friendly group of like-minded Tarot enthusiasts?
Do you have a vision of transitioning to become an accredited TGA Professional member?
To find out more click here …
If you are not a Tarot Guild Member already you can subscribe for FREE monthly email notices about TGA Workshops & Events
Blog
Karen Seinor explores The Moon Tarot Card and connects it's symbolism with the physical affects the Moon has upon the Earth and it's inhabitants.
Anne Shotter looks at the suit of Swords from the Rider Waite Smith tarot deck. She uses its imagery to explore the complexities of the power of the mind.
It is so exciting to be able to launch our new Tarot Guild website. The old or the original website served our needs very well for the first few years.
COMING SOON!
Tarot
Ca

rd for the Day
The Magician or The Magus is the first trump or Major Arcana card in most traditional Tarot decks.
Astrological Moon Phase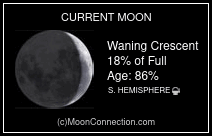 The lunar phase or phase of the Moon is the shape of the directly sunlit portion of the Moon as viewed from Earth. The lunar phases gradually and cyclically change over the period of a synodic month (about 29.53 days), as the orbital positions of the Moon around Earth and of Earth around the Sun shift.
Tarot Guild Shop
Click here to purchase workshops, lectures, and Issues of The Magician from the online Tarot Guild shop.