SHOP
Our online Shop offers a range of written publications, videos and recorded workshops by well-known professional Tarot readers and teachers – all at very reasonable prices!  Members: Be sure to log in to the website to receive your members' discount!
EVENTS
The TGA Committee and Group Coordinators work hard to bring you a variety of workshops on Tarot and other topics every month.  Check out our online workshops (available to everyone, no matter where you are) and face-to-face gatherings in Brisbane, Melbourne, Perth and Sydney.
MEMBERSHIP
Tarot Guild Membership is for everyone, if you are new to Tarot or just wish to be a part of a friendly group of like-minded Tarot enthusiasts, we encourage you to take a look at our membership.
LOOKING FOR A PROFESSIONAL TAROT READER?
Select your state below for more details or request information on our international professionals.
All Tarot Readers/Teachers listed are Professional Members of the Tarot Guild of Australia.  As such, all follow the TGA's strict Code of Ethics and have undergone a formal application and review process in order to qualify as a Professional Member.
An Interview with Delma Brunello
Delma is our Queensland Group Coordinator, an artist and a great Tarot enthusiast.
SUBSCRIBE AND STAY CONNECTED
If you are not a Tarot Guild Member, you can still subscribe for FREE monthly email notices about Tarot Guild Australia News, Workshops & Events.
ASTROLOGICAL MOON PHASE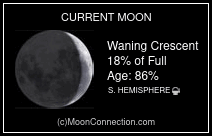 The lunar phase or phase of the Moon is the shape of the directly sunlit portion of the Moon as viewed from Earth. The lunar phases gradually and cyclically change over the period of a synodic month (about 29.53 days), as the orbital positions of the Moon around Earth and of Earth around the Sun shift.