Established in 1992, the Tarot Guild of Australia is the world's oldest Tarot association.
The primary aim of the TGA is to raise public interest and awareness of the Tarot, promote the study of the Tarot, to maintain ethical standards in the practice of reading Tarot via professional certification and to provide a network for education and sharing amongst members. The TGA offers Tarot events and workshops in major Australian cities and online.  We provide an opportunity to connect and network with like-minded individuals while learning about the Tarot.
SHOP
Products include past issues of The Magician (our own Tarot-focused magazine), videos and recorded workshops by well-known professional Tarot readers and teachers – all at very reasonable prices!  Members: Be sure to log in to the website to receive your members' discount!
UPCOMING EVENTS
Every month we offer workshops on Tarot and related topics, most costing $18 or less to attend!  Our schedule includes online events and face-to-face gatherings in Brisbane, Melbourne, Perth and Sydney.
BECOME A MEMBER
If you are new to Tarot, highly experienced, or just wish to be a part of a friendly group of like-minded Tarot enthusiasts, we have something to offer you.  We also offer a unique Tarot certification program and Professional Memberships.  JOIN US!
FIND A PROFESSIONAL TAROT READER/TEACHER
Select your state below for more details or request information on our international professionals.
All Tarot Readers/Teachers listed are Professional Members of the Tarot Guild of Australia.  As such, all follow the TGA's strict Code of Ethics and have undergone a formal application and review process in order to qualify as a Professional Member.
ABOUT THE TAROT GUILD OF AUSTRALIA
The Tarot Guild of Australia is Australia's leading Tarot association, organising Tarot workshops and events across the country and online. If you are searching for a Tarot event or looking to earn Tarot certification, we should be your number one resource.
We run monthly Tarot workshops in Melbourne, Sydney, Perth and Brisbane, plus online events for anyone who may find it difficult to attend our events in person.
We also offer a Tarot certification program for Tarot readers and teachers who are able to demonstrate:
– A sound understanding of the Tarot
– Ability to make meaningful connections between cards to build an interpretation based on Tarot symbols and images
– Using Tarot spreads to interpret cards in a way that makes sense to the client
– Communication with clients in a way that produces a positive experience
– Respect for their clients' values and right to self-determination
– Willingness to abide by the Tarot Guild of Australia's Code of Ethics in their professional practice
If you are interested in learning Tarot in Melbourne, Tarot in Brisbane, Tarot in Perth, or Tarot in Sydney, or Tarot in other regional areas of Australia, we can put you in touch with the right people in your area.
You may have always wanted to learn Tarot, it could be something that you have recently developed an interest in, or you may have had a Tarot reading, and now you are interested in finding out more and helping others.
Whatever your reason for wanting to learn Tarot, we can help you find Tarot for beginners courses and advanced Tarot courses which will give you all the guidance and skills you need to become proficient in Tarot reading.
We often find that people are surprised by the popularity of Tarot reading. We are continually asked about our monthly Tarot workshops, which offer superb value for money.
Understandably, our online Tarot workshops have witnessed a high uptake in the last couple of years, but our in-person Tarot class is always well attended. Indeed, many people find our Tarot association by searching for things such as "Tarot Melbourne", "Tarot Brisbane", "Tarot Perth", or "Tarot Sydney".
When people visit our site, we are happy to tell them about our certified Professional Members and let them know if there is a Tarot event in their area.
Of course, people have many reasons for wanting to learn how to read Tarot. For some, it is a passing interest or hobby, while for others, it may be something that they wish to pursue as a career, in which case, they would want to obtain a professional level Tarot certification.
Whatever your reasons for wanting to learn the Tarot, at the Tarot Guild of Australia, we are happy to assist you. Our site is frequently updated with forthcoming events, and regular blog posts on Tarot and related topics, and our online shop has everything you need to start. Indeed, this is why we are regarded as the leading Tarot association in Australia.
There is undoubtedly something mystical and intriguing about Tarot. Even the most cynical of people often have an interest in the cards. Few people are willing to dismiss what the cards say out of hand, with many taking notice and even making life-changing decisions based on their outcome.
Of course, we would always encourage critical thinking and common sense, but it is always worth keeping what the Tarot cards say at the back of your mind!
So, if you would like more information about becoming a Tarot reader or learning Tarot for, we would be delighted to hear from you. You can follow us on Twitter, Facebook, Instagram, or Pinterest. Alternatively, you can contact us directly via our website, and a member of our team will get back to you.
We look forward to hearing from you and being of further assistance.
SUBSCRIBE AND STAY CONNECTED
If you are not a Tarot Guild Member, you can still subscribe for FREE monthly email notices about Tarot Guild Australia News, Workshops & Events.
ASTROLOGICAL MOON PHASE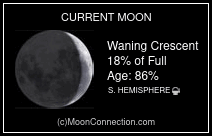 The lunar phase or phase of the Moon is the shape of the directly sunlit portion of the Moon as viewed from Earth. The lunar phases gradually and cyclically change over the period of a synodic month (about 29.53 days), as the orbital positions of the Moon around Earth and of Earth around the Sun shift.